Biden's American Economic Plan: What Is It?
Since the start of Biden's presidency, he and the Democratic Party have come up with several different versions of the American Economic Plan. Slowing climate change, lowering poverty rates, expanding healthcare and education, and raising taxes on the wealthy are all part of this strategy.
On September 25th, the panel approved the $3.5 trillion dollar bill with a near party-line vote of 20-17. Due to the extravagance of the bill republicans believe the proposal is unnecessary and unaffordable considering the nation's $28 trillion debt, and that it represents Democrats' desire to intrude on people's lives. Its tax cuts will cost employment and involve credits for electrical vehicles purchases, which are often made by people with high salaries, they argue. Biden also stated that the plan will be implemented over a ten-year period
Biden and the Democratic Party have gone into great depth about this strategy and all its components. For instance, the Joe Biden website directly states "If we can harness all of our energy and talents, and unmatchable American innovation, we can turn this threat into an opportunity to revitalize the U.S. energy sector and boost growth economy-wide. We can create new industries that reinvigorate our manufacturing and create high-quality, middle-class jobs in cities and towns across the United States" when speaking about climate change. Biden's climate and environmental justice plan calls for a $1.7 trillion federal investment over ten years, with additional private sector, state, and local investments totaling more than $5 trillion.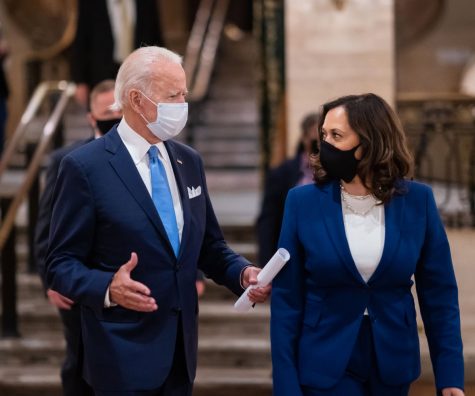 According to EHealth, "Biden has said that his plan will insure more than 97% of Americans by introducing a Medicare-like public option for Individuals and Families. His plan also includes strengthening the Affordable Care Act (ACA) by increasing marketplace subsidies."  The ACA is a comprehensive health-care reform bill that Congress passed in March 2010 (AKA Obamacare). The law provides payments to consumers with incomes between 100 percent and 400 percent of the federal poverty line, cutting costs (FPL).  Joe Biden plans on maintaining and improving Obamacare by giving Americans more options, reducing health-care costs, and simplifying the system.
In terms of education, Biden wants to give Americans two free years of preschool and as well as two years free of community college as part of his plan. Expanded childcare subsidies would benefit millions of families. In addition, federal financial help for low-income college students would be increased. Finally, Biden intends to raise taxes only on individuals earning more than $400,000 per year and couples earning more than $450,000 per year. Americans earning more than $5 million per year will face an additional 3% surtax, while corporations' taxes will be raised for companies earning more than $5 million per year.
The 3.5 trillion plan impacts virtually every element of American life, from healthcare and taxation to the environment and housing, and is mostly funded by increasing corporate and wealthy income taxes.