Peace Pole Installed on School Campus
Every September, the City of Coral Springs celebrates International Peace Day. Recently, a pole that says "May peace prevail" all around it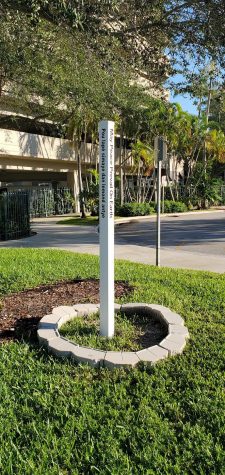 has been planted in front of our school. It is known as a Peace Pole.
The idea was conceived in Japan shortly after World War II. Since then, they have been distributed to over 190 countries all over the world. Since 2010, Peace Poles are currently planted in 47 schools all around Broward County (including ours).
"About two years ago, the pole was gifted to the school after two seniors won the Broward County Peace Pole contest" said high school art teacher Lauren Lindsay, who came up with the idea.
The reason for the delay was due to the pandemic (because school switched to online) as well as consideration with the city as to where it would be safe to dig into the ground to install it. 
Additional decoration is planned for the surrounding area. "The Art Club will be painting rocks to put around the pole, the middle school teachers will be putting out pinwheels, and hopefully a bench will be installed under the tree," said Lindsay.
As for other ways that Peace Day can be celebrated at school, Lindsay suggested that the school could have an assembly or a pep rally.