REVIEW: Blackpink's Comeback
Blackpink had a comeback for the first time in 2 years since their last song "Lovesick Girls" off the album, The Album, Oct 2, 2020. The girls have been working on their solo work with Jisoo starring in the Disney+ k-drama Snowdrops, Jennie filming for the new HBO show The IDOL, written by The Weekend and co-directed for Sam Levinson. Rosa and Lisa both released solos, with Rosa releasing her solo album "R" (released March 12, 2021) with the title track "On the Ground". Lisa with her album LALISA (released Sep 10, 2021) with her title track "LALISA".
The girls came out with a pre-release "Pink Venom", Aug 19. They then came out with the 8-track album Born Pink with the track and video "Shut Down."
"PINK VENOM"
This song is something new for Blackpink since we haven't really ever heard something like this from them before. It's not my favorite, but I like it. It's something you have to listen to for a while before you actually like it.
I really liked the music video. It had a lot of amazing sets. My favorite part would have to be the intro, with Jiso playing the gayageum, a Korean traditional instrument. I feel like this gave a very strong intro. I also liked the many pop references the song had by Rihanna and Tupac, Biggie.
Overall it was a strong song to start the album, something new and refreshing to see.
"SHUT DOWN"
My favorite song off the album so far. I love the orchestra, yet pop-balanced beat. I really like the way the song references old music videos and songs, with all the girls having their own unique parts in the music video recreating old parts. Like Jennie and Jiso in "Du du du du", Lisa in "Playing with Fire" and Rosa in "Whistle," etc. My favorite part is when they closed the door while saying 'Shut it down', almost as if they were starting a new era.
I overall really liked the song at first listen. It was really catchy and I enjoyed the music video. I only wish that they had better choreography to go with the song because I know they are all good dancers. This choreography looks lazy, but it's understandable for them, since they are singing and they aren't many members to have long enough pauses during dancing
Though I liked it at first listen, many like to say 'I hated it at first, but then I rewatched it and I loved it,' which is understandable as it's a new sound from Blackpink.
"TYPA GIRL"
"Typa Girl" is like a "Pretty Savage" 2.0. I also really liked this song. It's their first full-English song off the album. It's not something different we see from the girls, but it's still good. I'd say this song is more like a hype song.
The only problem I have with this song is that it doesn't have any choreography, as it's a very popular song on TikTok and other social media. As Blackpink have done choreography for popular songs like "Pretty Savage" before. Even though the choreography was pretty bad, fans still really liked it and maybe in the world tour we may see choreography for this song in the future.
"YEAH YEAH YEAH YEAH"
This song is really fun and upbeat. It gives off more of a summer vibe compared to their other songs off the album. I don't love it, but I don't hate it. I'm pretty sure if I listen to it a couple of times, I'll like it. This song is not to my taste, but it's still pretty good – repetitive lyrics are not my taste.
I will say I really liked listening to Lisa's vocals, as you don't really ever hear them that much because she's a lead rapper and takes up almost every rap part in a song.
"HARD TO LOVE"
Hard to love is a solo song by Rosa, and it's such an addictive song. Rosa 's voice is so pleasing to hear. Her voice really shines in this song; it's almost like ear candy.
Though this song sounds very upbeat, it has some dark relationship lyrics but, still it's one of those songs you listen to in the shower when you're pretending to have a mini world tour.
I still would have preferred if this song was left on her solo album instead of the group album. As I feel like this song would have shine better on her album "R," as she didn't have that many songs on her album and this one would have really stood out.
"THE HAPPIEST GIRL"
This is another full-English song off the album, a slow ballad song. With heavy lyrics on, it appears to be a break up. It's definitely a song you'd put on a moody playlist, the slow chorus and bridge to show the members vocals was an amazing choice by the producers.
"TALLY"
It's a very 'vibey' song, another full-English song off the album. The lyrics are a nice clapback to haters,  saying that this is my life. I do whatever I want, don't tell me what to do.
Lisa's and Jennie's rap part was nice. I liked that they kept it calm and didn't overpower it.
It is not a song that really stands out in the album but it's still good as Rosa and Jiso vocals are really nice to hear in this song. Not the best but still a good listen.
"READY FOR LOVE"
Ready for love was surprising to see on the album as it had been released a month after the album came out as a way to promote "BLACKPINK X PUBG". The song had also already been leaked for a year and was very popular.
It sounds like a typical Blackpink song with an opening to slow bridge, then a beat drop with repeating lyrics and somewhere in the middle they'll add a rap verse. It's not my favorite but I do really like it.
The PUBG music video was weird with the girls being animated to look like the videogame and only had one facial expression the whole video. The choreography is really catchy, I would have liked to see the actual girls do the choreography instead of the weird animation.
Overall view
I think this was a solid comeback album. "I like the album a lot, I have it on replay," said freshman Sofia Abreu.
I'd like to see the girls promoting instead of going on one music show and performing, I'd like to see the girls go on interviews, variety shows and do more group activities instead of solo for promotion. I know this isn't their fault, it's more of the company, which makes me really upset as a fan since they are one of the biggest groups in K-pop, yet barely put out music and are seen together as a group now.
The lack of promotion may have to do with the 2022 Born Pink World Tour that's starting on Oct 15 of this year in Seoul, South Korea, as they may be preparing for performance on tour. I still enjoyed the album with many songs on my playlist, and hope to see more from the girls in the near future.
Leave a Comment
About the Contributor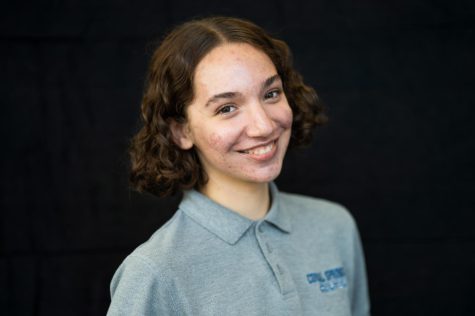 Giovanna Berrios, Business Manager
Giovanna Berrios is a junior. This is her second year on staff. She enjoys reading, hanging out with friends, astrology, and music.