The Charter Rap Scene 1: Slime.Antone
Charter has its fair share of musicians and artists. Some are notable, some are not. Anthony Perez is one of the more notable ones. His artist name is Slime.Antone. He's a senior and produces rap music. Here's a little insight into his life and what got him into making music.
How long have you been producing music?
"I started 3 years ago, I've always loved music. I play guitar, piano and drums so I'm accustomed to all music. During family reunions, I remember displaying what I know. So later on, when I started using FL Studio [a program that can be used to produce music]. I got into rapping and producing. Now I do everything, from mixing, mastering, doing vocals and more. At first I wasn't good – at first no one is going to be perfect. It took time for me to perfect it, I'm still not perfect, but I'm sharpening the blade."
Would you consider yourself "popular" amongst your peers?
"I'd like to think I'm popular, but I just do it for the music. If you focus on the wrong thing, like only attention or popularity, you're not going to get anywhere. If you're doing it for the music, people are going to be more into it. If you want followers, it comes down to marketing and advertising."
Favorite Sample-Sharing Services?
"I like using Splice. However I like to make my own samples. It fully makes the original sound. However taking someone else's sound & building off of it is a special art. I like it. "
Favorite Song you've made
"It depends, because I've made numerous types & it depends on my mood. Currently, my first track on my new album ["Titled Tranquility"] is my favorite"
Favorite Piece of Music Gear
"So I have a midi keyboard, I love it, you can plug it into FL & do whatever you want with its sounds."
Favorite Musicians
"It depends on the genre, like hardcore like Ken Carson, Summers, Destroy Lonely, Yeat. I listen to Yeat sometimes. But then there's the more emotional side, like Lil' Baby, Kendrick Lamar, J Cole, all that. Sometime it depends. I like all genres, all music, but hip hop is my favorite."
What's your general process when you sit down to make a song?
"When I sit down and think of making a song, I usually start with a melody then move into drums. Sometimes, I'll start by writing lyrics."
Perez has shown a lot of growth in a short period of time. Learning audio engineering, production and vocals in a few years is a massive feat. Overall, Perez shows a lot of potential and has a really good ear for music. Stream his new album "Tranquility" here.
Leave a Comment
About the Contributor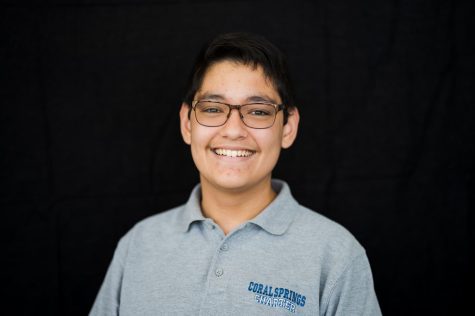 Cameron Khouri, Multimedia Editor
Cameron Khouri is a sophomore. This is his second year on staff. When he's not at school, you'll find him working on music and playing video games.