The Story Behind Mrs. Miller
This school has a variety of student programs that aim to achieve student educational success. Kris Miller is the administration assistant who mainly deals with scheduling meetings between teachers, students, and parents as well as taking part in school duties. An example of a program implemented at the school is the ESE department, which stands for Exceptional Student Education. This program is often overlooked by the majority of students that attend the school, especially if they had never experienced or been a part of the program before. The ESE program is focused on students with disabilities or other learning deficiencies that require a more thorough instruction that may not be available in a regular classroom filled with students.
First, Ms. Miller's position requires various communication skills to be successful. She explained that she mostly worked with others in the department rather than just by herself. Miller assists others a part of the administration with their jobs which include finding workable times for conferences, parent meetings, or donations. This can be difficult as she must work with many schedules and has to find times for meetings that are workable for everybody. Next, Miller described the main events that occur throughout her day which are often overlooked. She greets students in the main lobby as they come in and get ready for their day and even participates in lunch staff. This might surprise some students as they think she is working in her office the whole day, but she is actually very involved in the student life.
Furthermore, a main part of her day is working with others in her department such as Mr. Shampaner, the head of the ESE department. The two work very close together as she is his assistant. Not only does she work with other ESE members, but also administration and students in the school to coordinate schedules.
Ms. Miller included more skills that are necessary to be in this position. Ms. Miller explained what skills she had learned in her position which included research, organization, and people management. She made a good analogy of describing these skills as "putting together a puzzle" as she works with so many people and a variety of schedules in which she finds the perfect times to conduct conferences with students, parents, and teachers. Going along with the necessary skills topic, she described some that must already be known to be successful in this position. She explained these such as detail oriented, organization, computer abilities, and time management. She further explained how each of these abilities serves as an important part in her position.
In addition to necessary skills to be an ESE assistant, she stated how she feels about fellow students and teachers implementing something in their day to make her more organized. She explained that she appreciates when teachers cooperate with schedules, or make their schedule more workable to carry out meetings with students and parents. Miller stated that there are many ways that students or teachers affect her in a positive way. She sarcastically said it was helpful when teachers or administration show up to meetings and students acknowledge her as she greets them on their way in the school. She highly appreciates cooperation between everyone she works with.
Miller added personal feelings about her history with the school and what she likes the most about her position. She said the most exciting part of her position is when a plan that she has been working on comes together and everybody is on the same page. She also stated that she works with many parents so when she receives donations from them, she sees that as an important and exciting part of her day. Miller mentioned her past with the school and her family that previously attended the school. She said that she has been working with Coral Springs Charter for fourteen years, going on her fifteenth year. She also stated that she has a very involved family with the school as middle son was a student from the year 2000 and graduated in 2007. Her middle student then came back to the school to pursue teaching of social studies, physical education, and even went as far as being the head football coach for five years. In addition, her youngest son graduated in 2016 and is currently a seventh grade civics teacher and his wife is a sixth grade language arts teacher.
In conclusion, Ms. Miller offered a lot of information with the purpose of informing others about what it really takes to be an ESE administration assistant. She offered reliable information about what she enjoys, what skills her position requires, an explanation about what goes on throughout her day, and who her position requires to work with. Too many students think of Ms. Miller as the nice lady who greets students at the door in the morning, but she has such an important role in the success of the school and the success of the students who benefit from the ESE program.
Leave a Comment
About the Contributor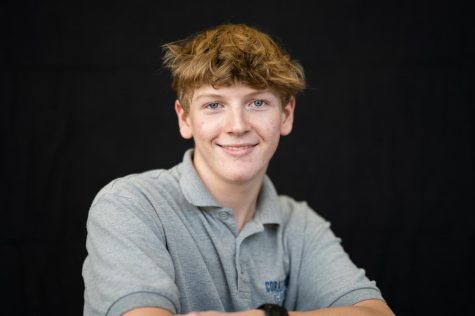 Jaxon Curnow, Staff Writer



Jaxon is a junior and a part of HOSA. He is interested in science subjects. His goal is to go into the medical field.