The Most Wonderful Time of the Year
Winter holidays are the best thing that could happen to students. Students around this time of year have midterms coming up and a stressful second quarter. They use the winter break to take a breather and enjoy spending time with their families.
Halloween is full of scares and people love the treat. Halloween has been a holiday since the 8th century and is still going on today. Halloween was originally named "All Hallows Eve" and later changed to Halloween. Students were asked about their favorite winter holiday and this student gave his opinion about Halloween. "My favorite winter holiday is Halloween because I get to scare people," freshman Rodney Chung said of his love from the frights of children.
Thanksgiving is a time to be with your family and enjoy the time with your loved ones. Thanksgiving was established as a holiday on November 26th and it is held on the last Thursday of November. Thanksgiving is also a day to give thanks to people you care about and love. " I love to be surrounded by my loved ones and I love when my family members get together and make delicious foods that I enjoy with my family," senior Juliana Browne said.
Christmas is the time of joy where families give or receive presents and also enjoy the Christmas spirit. Christmas was established as a holiday to celebrate the birth of Jesus. Christmas is held every December 25th and celebrated across the globe. Multiple students gave many traditions on what they do during Christmas. " My favorite holiday is Christmas," sophomore Romeo Mullings said. "I love to spend time with my family and eat the food that is made for the whole family."
Another student said "I love celebrating family traditions, spending time with family, and spreading joy," sophomore Khloe Lehoux said, following in their footsteps of loving Christmas
"I love hanging out with family and getting gifts," freshman Cameron Broeckelmann said. The love for this holiday is magical to these students and what they share.
Holidays in winter show a different kind of love for a variety of students or people in general. Halloween is a holiday where people love to trick or treat, or scare which people can laugh about. Thanksgiving is a holiday where people give thanks to the ones they love and eat great goodies with them. Christmas has a warm presence around this holiday and is celebrated around the world. It's a time to spend with loved ones and you can receive or give presents to the ones you love. All holidays have meaning to them and are celebrated every year with many traditions from many different families.
Leave a Comment
About the Contributor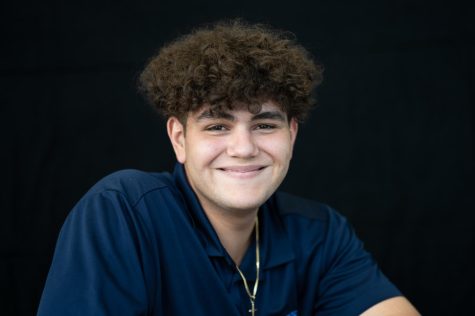 Carter Wojcik, Staff Writer



Carter is a sophomore. He plays baseball for the school. In his free time he goes gym.