Crumbl Cookie Food Review
When asked the question, "why are Crumbl Cookies so popular?" I answered, "they make delicious cookies", but I thought more about it. Crumbl is more than cookies, and I am here to talk about it.
I began my journey by going onto Crumbl's easily accessible and appealing website to see what weekly cookies they were serving. Per usual, I was mesmerized with the advertisements of the cookies. Crumbl has a way with catching perfect shots and ratios of their cookies in a way that sucks the viewer in. It is the first thing the viewer sees when entering the website, which is a good advertisement method. It then shows the list of cookies that are available in the week with detailed descriptions and extra facts like nutrition. After making the indecisive decision I decided I would order the milk chocolate chip cookie, which is the only cookie that never changes. Further research shows that Crumbl's app is "easy & time saving" and has 4.9 stars.
I drove down to Crumbl and was able to find it with ease due to its cute and iconic logo. As soon as I walked into the shop I was hit with a mouth watering scent that threw me off-guard for a second. It came with a pleasant interior that gave off a homey and cozy vibe that eases any tensions you have. One of my favorite things when visiting the store is its employees. Every time I have had an interaction with the hardworking employees I have had a pleasing experience. They make you feel welcomed and lift your spirits by being upbeat and polite. In fact, I have gotten a compliment the last few times I went which is always a nice treat, besides the cookies. The wait time for the cookies is barely a wait and you're sent off with a smile on your face.
The cookie comes in a brightly pink box with the logo on the front. It's an adorable item that can be used for multiple things, such as decoration or a base for gift wrapping. The box's material absorbs the heat from the cookies so that it creates a warm tingly sensation rather than a burning one. Upon opening the box, I was yet again met with a smell that blew all of my worries away. A positive I will note is that the cookies take a long time to dye down in coolness, which is nice when it has to make long trips for delivery.
The cookies have a soft cakey texture to them, it makes it easy to cut into and chew. I personally am a soft cookie type of person rather than a crunchy one. Biting into the cookie was a happy sensation that one feels rarely and increased my excitement. When I took a bite my taste buds were hit with a mixture of cookies, cakes, and warm chocolate. This creates a savory uproar that you never want to stop. Your mind will be overwhelmed by the decision to take another bite or make the current one last. The cookie is a decently sized portion, perfect for a snack and dessert. Before I knew it, the cookie that I had been so eager to try, was gone. The cookies that Crumbl makes are both a blessing and curse.
Overall, Crumbl Cookie rightly deserves its popularity and there are so many aspects to it that all come together and form the cookie shop we all love. The characteristics of accessibility, welcomeness and deliciousness all come together in unison. The next time that someone asks me the question of why these four dollar cookies are famous, I will show them this article to make sure they never ponder that question again.
Leave a Comment
About the Contributor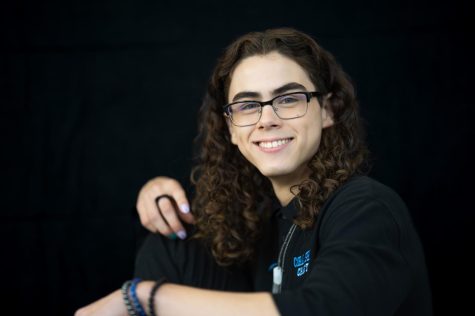 Miyka'el Leonardo, Staff Writer



Miyka'el is a junior. He is the Head of Costumes/Design Tech for backstage theatre. In his free time, he enjoys creating art, both digitally and...