Ortega's "Wednesday" holds up the legacy
Many feared that the new Wednesday Addams show, starring Jenna Ortega as Wednesday, had the potential to be disappointing. They thought it would be too tailored towards young millennials and late generation Z.
I believe they did well on making it watchable for all ages, with talents such as Catherine Zeta-Jones and Luis Guzmán as Morticia and Gomez Addams. Even Christina Ricci, known as Wednesday Addams from the earlier movies Addams Family (1991) and Addams Family Values (1993), was cast as one of the characters.
The basic synopsis of the story line follows Wednesday's journey at a new school, having adventures and meeting new acquaintances. In true Wednesday fashion, she would never honestly admit to them they had become her friends.
They filmed this show in Romania, which I think is interesting. Victor Dorobantu, who played Thing, the disembodied hand, is Romanian. The way they filmed with Thing was cool in itself. He was the product of CGI (computer generated images) combined with practical props and skill.
Ortega clearly thoroughly prepared for the part as Wednesday, studying blank faces like Billie Eilish, learning to play the cello, archery, and German. She also never blinks in the show. She waited for the cameras to change or hide them while filming. I've tried to catch her, but she's too good.
Ortega choreographed her own dance scene. She says she pulled some of it when she studied 'goth kids dancing in clubs in the 80's' and she also took some moves from Lisa Loring's Wednesday Addams, the 1964 The Addams Family version. She also was inspired by Fosse's movies. She said that Tim Burton trusted her to choreograph it on her own "which was nice but also scary." She taught it to herself in two nights. I would say that scene is one of my favorites. The colors in the scene I thought were quite pretty and set the mood well.
The costumes were also very good. Wednesday's dress was immaculate.
There were plenty of characters that they brought back in addition to Thing, such as Lurch, Pugsly, Gomez and Morticia, and Uncle Fester, most of which were just cameos.
New characters were younger, including characters like: Ajax Petropolus (Georgie Farmer), Tylar Galpin (Hunter Doohan), Percy Hynes White (Xavier Thorpe), Larissa Weems (Gwendoline Christie), and the most prominent of all, Emma Myers as Enid Sinclair.
Enid Sinclair is Wednesday's bubbly blonde roommate. I would say if Wednesday is a black cat type person enid is the opposite, a golden retriever. Their dynamic is absolutely adorable. Wednesday seems to have a soft spot for her, it is almost unnoticeable but she is happier around her. Little things like getting Wednesday to dress up in a cat costume or giving her a birthday gift, or even touching or leaning on her, things Wednesday wouldn't let anyone else do, at least without threat of death, though she probably would prefer that.
The two girls together is so popular together they even have a ship name, "Wenclair". To see the effect Enid has on Wednesday is quite intriguing. For example, the boys who have feelings for Wednesday claim she doesn't care about anyone, but when Enid yelled at her and left the room Wednesday curled up in a ball and almost cried. When they were together she also protected her feelings and her in general asking if she was okay and even putting her body in front of her when pursued by danger. It seems Jenna Ortega supports this too as well as Ermma Myers. Maybe if there's a season two it might happen.
Despite this being very cute to have the opposites attract couple vibe, I do think that Wednesday does not have to be with anyone at all. Wednesday doesn't seem the type that would be in a relationship. Unlike her parents Wednesday is more introverted with her emotions and doesn't let many in.
One of the only things I did not like about this show was the editing of the main monster. Something about it just looked off. It was at the point that the sketches the characters made of it were better than the reality of it. However, everyone did an amazing job on the show overall. I hope to see Ortega in many other roles in the future. She is very talented and held up the integrity of the Addams name.
If you haven't seen the show Wednesday, I highly recommend it. The show aired November 23rd and is on Netflix. It includes comedy, peril, excitement, action, romance, it's a little something for everyone. If you do watch the show, I hope you enjoy it as much as I did.
View Comments (1)
About the Contributor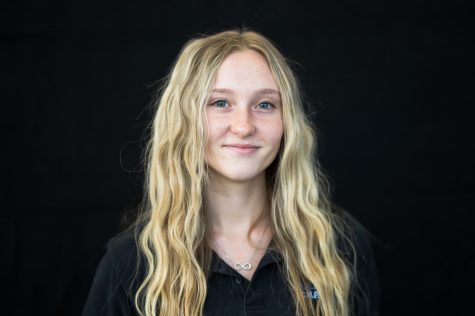 Katelyn San Marco, Staff Writer



Katelyn San Marco is a junior at Coral Springs Charter. Katelyn is a soccer player who also participated in the drama program. In her free time she...