Braindead Bird App
Twitter has been an interesting place lately. With Elon Musk recently taking the reins on the company, it has been going through some drastic workplace changes. Elon fired core executives and managers, causing mass chaos among the staff. Aside from internal issues, the Twitter app itself is going through a craze too with numerous new rules being added to it.
The new Privacy rules were added by Musk himself. Basically, you cannot expose someone's current location or where they could be. The accounts of Ryan Mac of The New York Times, Donie O'Sullivan of CNN, Drew Harwell of The Washington Post, Matt Binder of Mashable, Micah Lee of The Intercept, Steve Herman of Voice of America and independent journalists Aaron Rupar, Keith Olbermann and Tony Webster were all suspended because they posted the active location and personal information about Musk, breaking his new twitter rule.
After facing public outcry because of this, he made a poll.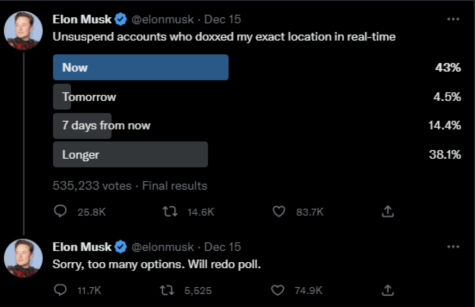 After the public voting on immediately un-suspending them, Elon decided he wanted a revote.

This also proved futile, and the journalists that were suspended had their suspensions lifted.
His new "no impersonation" rule has totally backfired. Twitter Blue subscription allowed accounts to get verified for $8/Month. This could be done by anyone, resulting in numerous impersonation accounts that acted like companies such as McDonalds, Rockstar Games, and other notable, popular corporations. They also acted like celebrities such as Elon Musk himself. This caused companies to pull out of Twitter and stop supporting the platform due to them losing money from fake tweets.
On top of all of this, the things Elon claimed he would fix aren't totally fixed. Bots still account for almost 30% of content on twitter's website.
Reddit is more pure and humane than twitter at this point. Twitter is a mess. Elon Musk's takeover is making it worse.
Leave a Comment
About the Contributor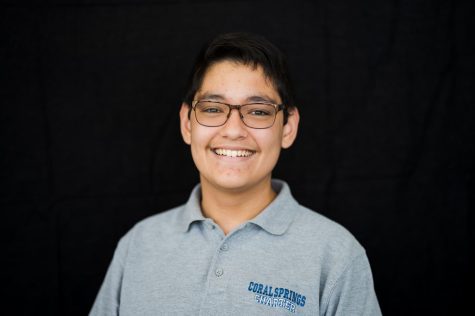 Cameron Khouri, Multimedia Editor
Cameron Khouri is a sophomore. This is his second year on staff. When he's not at school, you'll find him working on music and playing video games.