Volleyball player Alex Bruno commits to St. Thomas University
Senior Alex Bruno committed to St. Thomas University in Miami. Bruno is a volleyball player on the Varsity team and has been playing the sport for 7 years. "I started in sixth grade," said Bruno.
Bruno enjoys playing this sport, and has been in several positions. "I started off as a middle, then I was a setter and now I'm a pin hitter meaning I can play either on the outside or right side," said Bruno.
Bruno has had several accomplishments throughout her years. "Some of my biggest accomplishments have been being named player of the year, winning districts two years in a row, winning a national title with my travel team and being named MVP (most valuable player) of that tournament," she said.
Reflecting on this year's season, Bruno believes it "went well." "Of course, there were ups and downs, but I think for the most part, on my part at least, I was just really enjoying the moment. I loved the moments where I could take a step back and just appreciate where I'm at and the people around me," said Bruno.
This year was her last year playing on the team, but Bruno said that she is taking good memories and friendships with her. "While I wish we could've gone farther, I am still very proud of what we accomplished as a team," said Bruno. "I have a nice relationship with my teammates. I love and respect them all so much. We laugh together, cry together, and they are some of my favorite people."
Volleyball coach Samantha Harwell has had a huge influence on her. "My relationship with Coach Harwell is equally as amazing, she is an awesome woman, mom, teacher, coach, and mentor. We can bounce ideas off each other and there's a lot of mutual respect," said Bruno.
Even offseason Bruno still strives to get better every day. "I train about five days a week. It's a mix of team practice and individual lift," said Bruno.
When she's not playing volleyball, she does track. "I've been lifting more recently with the football team after school and after winter break. Track will be starting and that will add to my preparation," said Bruno.
Even though sometimes it might be rough to balance two sports, she's able to do it. "Balancing both volleyball and track can get hard but for the most part I feel like I've got the hang of it," said Bruno.
Leave a Comment
About the Contributor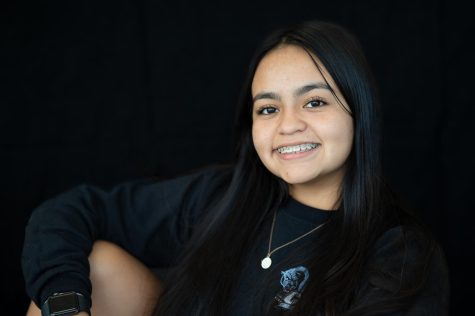 Annye Calderon, Staff Writer
Annye Calderon is a junior. She's also a senator for her class and plays soccer. In her free time, she enjoys painting and going to the beach with her...