Don Pan Review
Upon walking into Don Pan at 11010 Wiles Rd Coral Springs, the outside of the restaurant seemed worn down but when inside it felt like a whole different place. I was immediately struck by the delicious aroma that filled the restaurant. The two workers who greeted us were incredibly welcoming, offering us menus in both English and Spanish to make it accessible for non-bilingual individuals.
As we peered through the windows at the freshly baked food that was separated into either sweets or meals, we placed our orders with a kind lady who was excited to know we understood Spanish. Payment was easy as well as affordable, and before we knew it, we were handed our lunch trays with our food.
Miyka'el's Order
I ordered a cheese arepa and passion fruit juice. The arepa was an unusual mix of crunchy and soft and had a subtle sweetness to it from the cheese. The passion fruit obviously had a lip perking sweetness with a little bit of tang. For the most part, the arepa and passion fruit were delicious.
However, I would have preferred if the arepa was warmer and the cheese had melted to prevent bland bites and to have more of an 'ooy-gooy' feeling. The passion fruit, while sugary, did seem a bit old. Aside from the food, the atmosphere was peaceful, and the music was enjoyable.
The restaurant is located in a secluded area as well as being a small building so it definitely could be called a hidden gem. The outside area was cute with little umbrellas covering the eating areas and Shakira playing in the background on the speakers to give you some jazzy spirit while eating. I will note that even though desserts aren't a part of my review I would suggest a person who isn't a fan of sweets to come here. I personally have a big sweet tooth and I wasn't quite satisfied with the taste of the desserts.
Isabela's Order
When I was ordering, we were able to see the well-organized food display. The interior displayed different food cultures as well as having a classic mixed hispanic aesthetic with the yellow and red color pallet and the patterned tile. While waiting for our food outside, an employee kindly offered us free samples of caramel cake but since I'm not really a fan of sweets I found the cake to be alright.
Once our food arrived, it was neatly made; the empanada was placed on a napkin and in a little paper bowl. I had also ordered blackberry juice which was both sweet and refreshing. The chicken empanada was fantastic, with the perfect texture of the shell complementing the chicken filling. The chicken was at a good temperature and it was shredded so it made it easier to eat. I was able to finish my meal with the last sips of blackberry juice and I was satisfied with my purchase.
Overall, I highly recommend Don Pan for a delicious and pleasant dining experience.
Leave a Comment
About the Photographer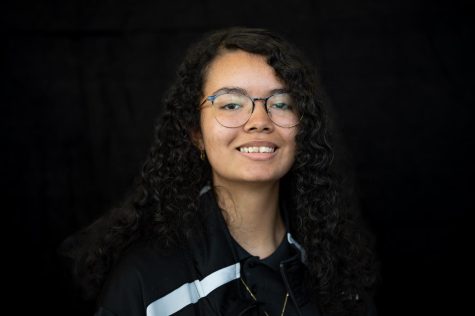 Isabela Catalan, Staff Writer







Isabela Catalan is a junior. She is part of the Art Club and the costumes/design tech team for backstage theatre. In her free time, she enjoys...