An Interview with Bethany C. Morrow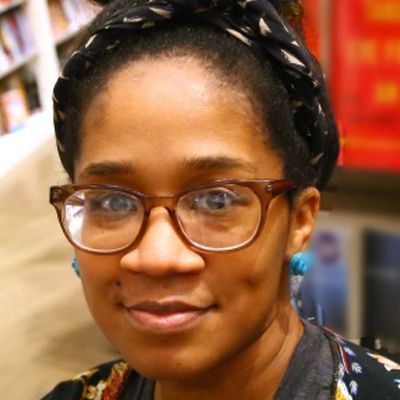 Bethany C. Morrow is a Black fiction author who is celebrated by her fans for her introspective writing and wonderful characterization. Her views on race and the Black person's experience in America have been widely spread with her Young Adult debut novel, "A Song Below Water."
The Young Adult genre has long been dominated by stereotypes and the same, recycled cookie cutter characters, but Morrow has added her own touch to the change the genre is undergoing. In our interview on Wednesday November 11th, she described her views on the experience of Black women, and how she empowers her audience of young Black girls.
A Song Below Water is a book centered around a pair of sisters, not by blood but by choice, Tavia and Effie. The two live in Portland, Oregon where they struggle with their own problems. Tavia attempts to keep her siren identity hidden when a siren murder trail tests the waters of her high school. Effie comes to terms with a past that shadows her every action in her job as Renaissance faire.
"I knew that I was writing about a Black girl who was a siren in a world where only Black women were sirens," said Morrow.
The story places the two down a path to self-discovery and friendship in a world insistent on hate towards the siren race.
"It was really more a matter of demonstrating to the reader how this mythos that they are familiar with is actually very, very close to the life experience of mistrust, negative connotations, and the need to protect yourself from people that is true to life of the Black female experience. So, it's more about demonstrating to the reader: if you can understand this thing, if you can understand this fantastical aspect then you should be able to understand what I'm talking about," said Morrow.
"A Song Below Water" was published this past summer, on June 2nd, 2020, coming in time with the Black Lives Matter movement which was not planned by Morrow. She had been revising and outlining her novel with her idea covered white board for over many months before the protests broke out.
The thought process behind Morrow's development of characters sheds a light to the distinctiveness each of her novels carry.
"I think for me, characters have to be unique to the world that they live in and therefore world building and characterization are very similar for me," said Morrow. "They're part of the same concept. I knew something about the world because I knew something about Tavia, I knew something about the world as soon as the concept came to me."
The concept for A Song Below Water was the inspiring line 'My voice is power.' Morrow explains that this single line guided her to the story.
"My voice is power, it being spoken by a Black girl who was a siren, who knows that sirens have power regardless of whether they use it for anyone's harm, and the point is that the person who yields the power is thought to be either unbecoming or undeserving of said power," said Morrow. "That tells me not just something about the world, the character's process, the character's journey; it tells me something about the world that they're from."
According to Morrow, the best characters well-rounded. She defines this as a character "that has depth. They are well characterized."
Morrow writes story specific characters. "They are intrinsically related, Tavia and this alternate Portland," said Morrow, "So, I've always said that if that is not the case, then you don't have a character. If I can take this character and plop her in some other story and have her still make sense, she's not a fully developed character."
For her work, she recently had the honor of being added to the list of '100 Black novelists and fiction writers you should read from Abi Dare to Zora Neale Hurston' by USA Today. Her novels "Mem" and "A Song Below Water" received this honor because they are noteworthy in the thought-provoking feelings they invoke. Even though her novels feel so fluid in their plot, the story building process behind her books is not as straightforward.
"It would be difficult to say that I did this and I did this and this because it's not the sort of process that even if I were recording the process, you wouldn't really be able to see a beginning and an end," said Morrow.
Her creativeness took form differently and allowed her story have an organic development. One example of this is the resolution of the novel being dependent on the sisterhood between Tavia and Effie.
"Of course, it makes total sense that it does because it is that important to the story, their relationship to each other," said Morrow. "I was physically looking at the different aspects of their journey and then I would just look for anything that could basically bring them closer and closer. It sorts of resulted in a relationship that you see in the book."
Her ease in bringing characters together and tying together plotlines is adored and highlighted throughout her novels.
"It's sort of an amorphous cloud like a nebulous," said Morrow. "A nebulous experience where it all sort of spurred something else so it's not a very straightforward process. If someone was like 'Well, how did you decide this?' I wouldn't be able to tell you when I decided those things. They began to make sense as the story came together."
A Song Below Water is available for purchase at Bookshop, Thriftbooks, and Barnes and Noble. These sites are perfect for purchasing novels at an affordable price. Those who would enjoy this book are any fans of the fantasy genre, the young adult genre, or those who like novels including friendship and self-discovery.
Bethany C. Morrow recently had a virtual presentation at the Miami Book Fair with other fantasy authors, Tor Teens Presents Own Your Magic. To view this presentation, make a free account with the Miami Book Fair website.