Paw Print Picks: Five Feet Apart
The school year has continued with the virtual format and thousands of students are experiencing the downside of amounting screen time. These negative effects can range from blurred vision, headaches, poor posture and chronic eye problems. Our elongated summer blending into the online school year brought boredom and many students turned to video games and TV shows for entertainment, when they could have been reading books. Books help inform and allow readers to experience things they will never know in real life. Books are paper made teleports into medieval tales, intergalactic wars and even epic love stories, such as Five Feet Apart.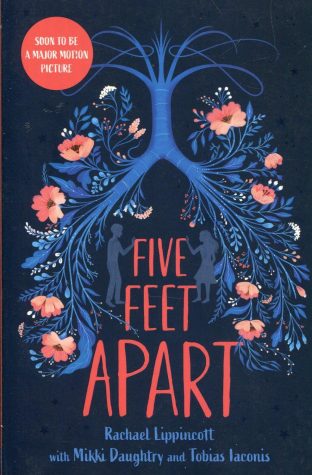 Title: Five Feet Apart
Author: Rachael Lippincott, Mikki Daughtry, and Tobias Iaconis
Date of Publication: November 20th, 2018
Genre: Drama, Romance
Awards: Goodreads Choice Winner, Best Young Adult Fiction of 2019
For 276 pages, Five Feet Apart takes the reader on the winding adventure of two cystic fibrosis patients discovering love, questioning life, and all the hijinks that come with being a teenager. The novel's title Five Feet Apart could not be more relevant to the COVID pandemic, with the CDC's guideline of 'six feet apart.' Despite the emotional closeness the two main characters develop, they never can close the physical gap between them. Patients with cystic fibrosis (CF) must always maintain more than six feet apart. The risk of passing harmful bacteria to the other is too high. So, no matter how much our characters would love to hold hands and hug, it is near impossible. As a quote from the novel painfully notes, "For the first time, I feel the weight of every single inch, every single millimeter of the six feet between us. I pull my sweatshirt closer to my body…trying to ignore the fact that that open space? It will always be there."
This romance novel, frequently compared to The Fault in Our Stars by John Green, has been praised with its portrayal of teenage life when bombarded with hospital appointments and medications. The novel made readers either squeal with joy or tense with anticipation through characters' 'cheesy' but sweet gestures and dialogue that weighs.
Five Feet Apart follows the everyday life of Stella Grant, a teenage girl with cystic fibrosis, a hereditary pulmonary disorder in which the passageways of the lungs and the digestive system are filled with mucus. She is dutiful in keeping up with her YouTube channel, her medications, therapy and every other routine that controls her life. Will Newman is almost her polar opposite were it not for their cystic fibrosis. Will is careless, free spirited and could care less for new lungs. The two eventually get closer and go on a roller coaster ride of emotions helping each other with personal problems and CF issues at a distance. Fans, myself included, felt their pain of being apart.
I read Five Feet Apart over quarantine and whether you are a fan of the young adult genre or the romance genre, this book can easily be related to during the COVID pandemic. Rather than viewing this novel as just another "corny" love story, see it as an opportunity to learn about a world of patients who had to stay six feet apart from each other even before the COVID pandemic.
I was interested in this book because of its title, its meaning hitting a close to home. As I dived into this book, I was enthralled by the medical terminology, and how the novel was told from a patient's point of view. Learning about this disease left me in tears as it made me realize that CF patients have always been practicing the six feet apart rule. This was not the only lesson the book taught me. Five Feet Apart pushes its characters to take risks and assume power in what seems their powerless lives. The novel revolves around the reckless, teenage spirit and the idea that taking chances is what life is about. It shows that love is something that comes with time and cannot be rushed. I was not only taught timeless lessons, but I was able to gush over sweet sentiments and daydream my own teenage romance as well. The Young Adult genre has been judged for being unrealistic and written off a daydream, but this novel seemed to me to be as real as an experience of a child or teenage patient dealing with a hereditary disease. The novel highlights the child patient experience by switching between the main character's point of view from chapter to chapter.
Before I finish, let me just get this out of the way, I am a sucker for young adult romance novels. I've always loved the Romantic genre and have gotten lost for days in the pages of a book about two 'star crossed lovers. For this novel, I betrayed my universal law when it comes to books with movies, which is 'always read the book first.' With Five Feet Apart, I accidentally saw the movie over quarantine and enjoyed it. It was released March 7th 2019, starring young adult actors, Cole Sprouse and Haley Lu Richardson. It had a wonderful cast, and the screenplay was written by the same co writers of the book, Tobias Iaconis and Mikki Daughtry. If you are more of a movie fan and need some romance films, Five Feet Apart is right up your alley.
If you wish to purchase your own copy of Five Feet Apart, down below are websites where you can buy the book at a cheap price and in an eco-friendly way.
Thriftbooks
Book Depository
AbeBooks
Better World Books
Bookshop