A retrospective of the Stoneman Douglas Tragedy and how we can make a difference
Introduction
Three years ago, Valentine's Day in our community was forever transformed. Innocent happiness and flower bouquets now yield to the echoes of tragedy. A day of love is now also one of remembrance. 
Each year, this being the third anniversary of the shooting at MSD, it is important for our community to reflect on the 17 lives that were lost—and the promise made—that this would never happen again.
"Never Again to our MSD students means never again will we take no for an answer when we know that is not acceptable," said Ivy Schamis, who was an MSD teacher when the shooting occurred. "They will work towards gun reform, albeit a long and arduous road. Our students will be responsible adults who may become elected officials that make changes, or at the very least, informed citizens who vote for change."
The movement for gun violence prevention remains active.  
"Reflecting now, I continue to find hope for a brighter tomorrow from our young people. In all that we do, we honor the 17 lives who were taken, through acts of love and kindness in their memories," said Samantha Novick, who was the community organizer of the March For Our Lives Parkland event. 
Samantha Novick is the president of The Friendship Journey, a nonprofit organization which provides inclusive programs for teens, kids, and young adults. Two of her student volunteers,  the "kindhearted" Gina Montalto and "beautiful soul" Jaime Guttenberg, were victims of the MSD shooting.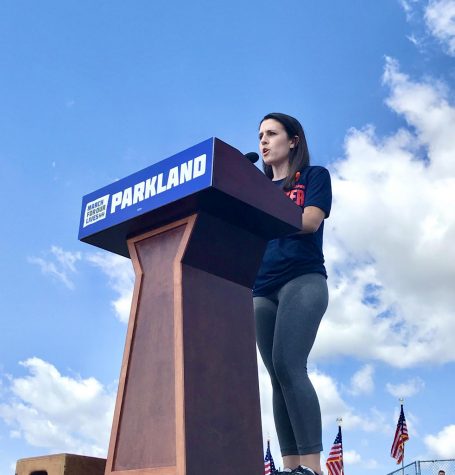 "It is devastating and unacceptable that your generation has to face these atrocities and that active shooter drills are now part of growing up in America. Many of those who planned the march continue in their fight toward justice and change," said Novick.
In a recent poll of Coral Springs Charter students, nearly 93 percent believe that gun violence is relevant issue in America today.
According to the FBI, NCIS firearm checks, which generally prelude the purchase of a gun, increased by 60 percent between 2019 and 2020 in Florida.
"People are afraid and seeking 'protection.' However, the combination of depleted emotional wellbeing and firearms is catastrophic," said Novick.
Despite the restrictions that COVID-19 placed on gatherings in 2020, mass shootings, defined as when 4 or more are shot or killed, have largely increased. There has been more than in any previous year from 2014-2019, according to the Gun Violence Archive.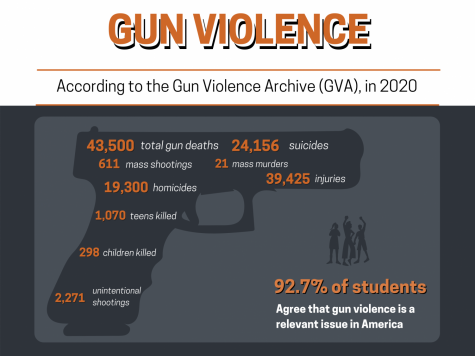 Data can be deceiving. Mass shootings are not the only form of gun violence. In fact, gun violence does not in itself appear as a leading cause of death. Rather guns themselves, as a tool, are a silent undercurrent, and play a role in many types of deaths; homicides, suicides and accidents (also known as unintentional injuries). 
"The majority of deaths from guns are actually due to self-harm," said Novick. "If someone is at a critical moment in which they falsely believe that no other options exist and have access to a gun, that person is far less likely to have time to stabilize from that overwhelming state of mind, seek support and recognize that life is worth living."
The increase in gun violence comes at a time when there have also been an increase in community unrest, decreases in community mental health, and violence in general across the country.
"I think our country is experiencing a turning point in history, as our deep-rooted racist and violent foundation is being exposed and called out. Gun violence shatters lives." said Novick.
Schamis agrees that gun violence remains a prominent issue in the nation. 
"Gun violence is on the rise in our country and given the political, health, and financial climate this past year, we should all be extremely concerned," said Schamis.
The prevalence of gun violence will take the effort of many for change to be realized.
Stories of Gun Violence: Humans in the Wild
Humans in the Wild: Reactions to a Gun Loving Country is a collection of stories about gun violence. Editor Jennifer Russon shares her journey to publishing this anthology late last year.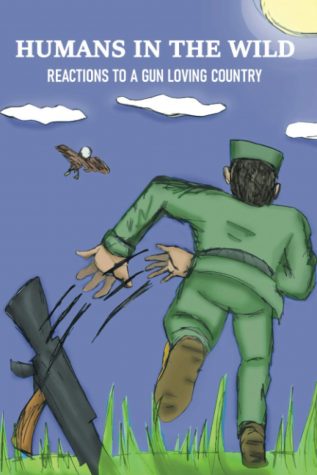 "Exactly one year before press date, I published my novel, Persephone Underground, which was a way for me to vent after covering a lot of Parkland shooting victim related stories," said Russon. "[The novel] is, at its heart, about survivor guilt. While trying to market that book, I met a literary magazine owner (Mythic Picnic) who came up with the idea to publish a gun violence anthology together. It took a long time to wade through submissions from all over the world. We received over 500 of them!"
Russon was not worried about tackling the divisive nature of gun violence in this collection.
"Since the book shows perspectives of gun violence from hunters, military, thieves, the mentally ill, or the just plain scared, I think it's a chance to look at the epidemic of gun violence with a more open mind," said Russon. "If we can better understand why people love or fear guns, maybe it will be easier to regulate their use some day."
Humans in the Wild includes a variety of formats and styles. For example, in non-fiction section called "How Came These Things to Pass," Annie Dawie describes her experience reading the New York Times gun violence tally.
"'By accident' and 'on purpose' are terms we use off-handedly, as if it were easy to tell the difference, but I find, the more I read, the distinction is not always clear," wrote Dawie. "An incident here in the rural town which I've lived for the last ten years makes that label especially difficult to discern. Kenny, a 9-year-old red-head spattered with freckle—a dynamo soccer player on my son's team—is dead."
"
Kenny, a 9-year-old red-head spattered with freckle—a dynamo soccer player on my son's team—is dead."
— Annie Dawie
Humans of the Wild has fiction pieces as well. "Collective Nouns for Humans in the Wild" is the flash fiction piece that the collection is named after.
"Humans in the wild: gathered and feeling good, previously an exhilaration, now: a target," wrote author Kathy Fish.
Through the collection of submissions, Russon learned about the many faces of gun violence.
"The scope of the anthology changed pretty much right off the bat. At first, I thought it would be limited to the way students and teachers were feeling about gun violence in schools. But I soon realized gun violence is so much bigger than that and affects people of all ages and circumstances," said Russon.
Humans in the Wild expresses gun violence from a personal lens. Through the stories, those affected by gun violence connect with readers and become more than a statistic.
"I hope they see writers from other countries besides the United States are watching and empathizing with our gun violence epidemic. I also hope readers see this is not an indictment on the 2nd Amendment. Some people love their guns and that's okay," said Russon.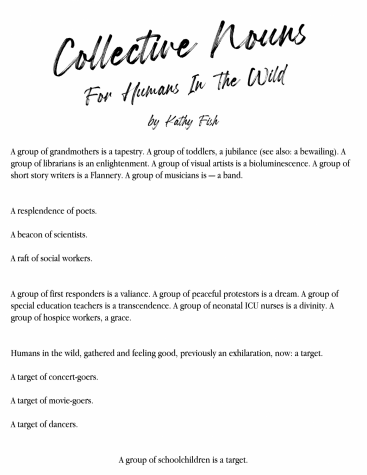 More Than One Solution
In a recent student poll, 58.5 percent of our students asserted that gun control is not the only way to stop gun violence.
Andrew Pollack became a school safety advocate after his daughter, Meadow Pollack, was killed in the MSD shooting.
"Arrest people when they break the law. Do away with gun free zones. Encourage psychiatrists to formally log Baker Acts with the courts so it comes up on a background check," said Pollack. 
Pollack is the chair of the School Safety grant. Last year, with funding from this grant, Coral Springs Charter became the first school in the country to implement Active Law Enforcement Response Technology (ALERT).
"
Arrest people when they break the law. Do away with gun free zones. Encourage psychiatrists to formally log Baker Acts with the courts so it comes up on a background check,"
— Andrew Pollack
"The new ALERT system helps because it a fast way to alert the school of a dangerous situation and it alerts our police department for a faster response time," said Student Resource Officer Brian Gasper. "To combat gun violence, you must be prepared, have a plan on what to do in certain situations, and report any suspicious behaviors or acts that may indicate violence may occur.  Our school has done this by limiting access to the public, identifying all of our students with ID cards and uniforms, and by practicing emergency drills."
The ALERT system is not the only change Charter has made since the MSD shooting.
"Since the MSD shooting, the school has increased the security by adding an exterior fence around the school, an interior wall with a bullet proof reception window to greet guests, multiple cameras in and around the school, and enhancing the school security measures," said Gasper. "There are panic buttons in secure locations, a new alert system with lights and a loud-speaker recording, a new camera system, and the best part is that the system is connected to the Coral Springs Police Department.  In addition, bleeding control kits have been placed in every classroom and in large areas around the school."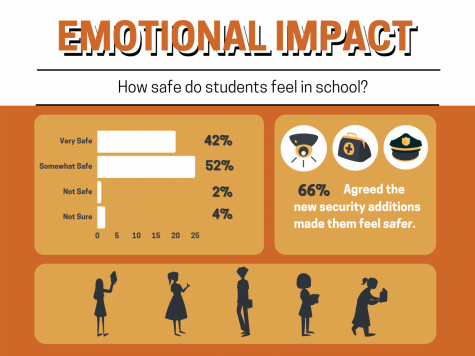 Of students polled, 66 percent agreed that they felt safer in school with the security additions Charter has made.
Race and Gun Violence
Aalayah Eastmond was in her class at MSD during the shooting. The experience pushed her to speak out.
"I already was very aware that gun violence was a huge issue that disproportionately impacted Black people because I lost my uncle to gun violence a few years ago in Brooklyn. And, when I first moved to Florida, I lived in a community that was heavily impacted by gun violence," said Eastmond. "But because I was so timid, and I was very reserved and quiet, I didn't really speak out a lot."
Only four days after the shooting, Eastmond began her journey into activism. Today, she is a Team ENOUGH National Administrator and Executive Council member, where she works to educate young voices about gun violence.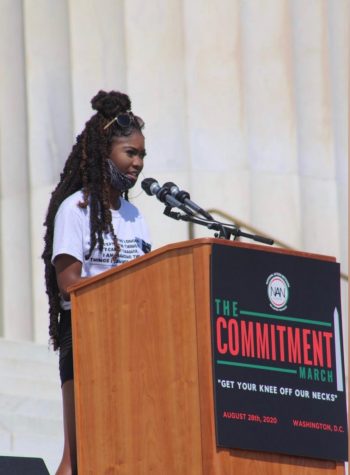 "I realized that although some things might make people uncomfortable, we have to get comfortable with being uncomfortable to solve these issues, specifically gun violence," said Eastmond.
Eastmond is vocal about the critical disproportionality of gun violence.
"A lot of people talk about gun violence now, after my high school sparked a world-wide conversation about gun violence in America," said Eastmond. "They forget to realize that Black people are the number one group impacted by gun violence."
According to Eastmond, gun violence is a racial issue.
"A lot of the systems that we have—like society and government—have allowed gun violence to disproportionally impact communities of color. For example, the flow of guns in these communities. And I'm going to use D.C. as an example. D.C. is a city that has very, very strict gun laws. But because it is in between Maryland and Virginia, these guns are consistently brought into marginalized communities in D.C., and the police don't do anything about it—they oftentimes perpetuate that same violence," said Eastmond.
She believes that the media plays a huge role in the marginalization of communities of color.
"If you really look at the communities that are impacted by mass shootings, they are often not communities of color. So, of course, the media will gravitate towards these communities because they're not black people—I'm just going to have to say it straight like that," said Eastmond. "And, if we look at the language the media uses in terms of mass shootings, it's often related to mental health issues or security not doing something. When we look at language used when there's an issue or a shooting in black communities, it's often that the community is filled with thugs, or that this is just the regular and can't be fixed."
Eastmond thinks that it is important to recognize this disproportionality. 
"For these issues to be solved, we need this allyship, but language will push them further away—language used by the media." said Eastmond. "Media not even covering the issue will not even get it exposure, so people won't recognize that, you know, maybe up the street from their house can be a gun ridden area,"
This summer, Eastmond co-founded an organization called Concerned Citizens of D.C. They organized many of the D.C Black Lives Matter protests.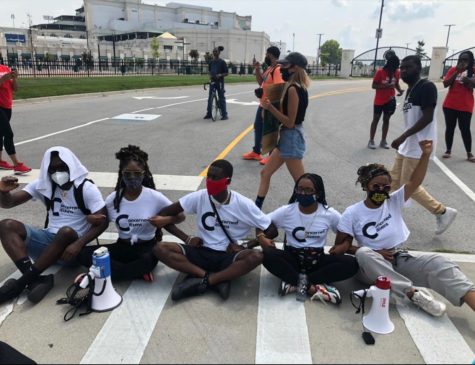 "It's also important to recognize that police violence is a huge part of the conversation when we're talking about solving gun violence. And if we look at it, a lot of the ways we solve police brutality is how we solve gun violence in communities of color," said Eastmond. "They really go hand in hand."
Gun violence has no easy solution.
"It cannot be solved with just one piece of legislation—or even two, four, five pieces of legislation," said Eastmond. "For example, solving mass shootings would be more so about implementing legislation to make it harder for those who are deemed harmful to themselves or others to get a gun."
According to Eastmond, a different solution is necessary in communities of color: Providing resources.
"The solution needs to be more community-based," said Eastmond. "That's how we will solve this issue, by breaking down different intersections and really working together to talk about the different reasons that gun violence happens in different places, and how to combat it. And not just saying universal background checks will stop gun violence for everybody, because that's just not true."
Activism and Gun Violence
Zoe Weissman is a freshman at American Heritage. Three years ago, she was with her classmates at Westglades Middle School, right across the street from MSD, when the shooting occurred.
"I was sitting outside at the time the shooting started and wasn't able to get back into a classroom until the shooting had ended," said Weissman. "Surviving that kind of trauma at the age of 12 flipped my whole world upside down. I could barely function in school anymore."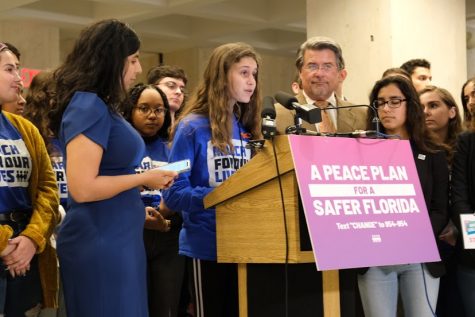 Weissman became an activist for gun violence prevention, as the Fund Developer for March for Our Lives Florida (MFOL). She is still involved in the movement and is currently Co-Director of the Parkland Chapter and founder of the American Heritage chapter.
"Although I wish I never had PTSD or even had to deal with a shooting—as I am sure everyone in Parkland feels—it has really opened my eyes to the failures of our government and if anything, motivated me to advocate for the next generation of Americans," said Weissman. 
Weissman views gun violence from a unique perspective.
"Gun violence is truly an epidemic that has been raging out of control for years in our country. It's killing thousands of Americans every year," said Weissman. "I like to think of gun violence as a disease. To me, that means implementing preventative measures to stop the disease from occurring; background checks, violence intervention programs, AR bans—as well as reactive measures, like school security."
Weissman believes that even students who are not yet old enough to vote can still make a difference.
"I joined March for Our Lives right before eighth grade, and I wanted to join so much earlier, but I felt as if I was too young to be taken seriously. That was definitely not the case," said Weissman. "At the age of 13, I got to speak at a press conference at the Florida State Capitol. Nothing in the world of activism is off limits based on age. Regardless of how old you are, there are so many organizations to get involved in."
"
Nothing in the world of activism is off limits based on age."
— Zoe Weissman
Sari Kaufman is a college student at Yale. Her experience as an MSD student during the shooting made her realize how politics and elected leaders directly affect young people. She founded the MyVote project which encourages voters to educate themselves.
"When the majority of people show up and vote informed, then gun violence prevention legislation can be passed," said Kaufman. "For example, 70 percent of US citizens support universal background checks, but lawmakers vote against it. Therefore, if people vote based on their interests and candidates who truly represent their constituents get elected, then real change can be made."
Kaufman also encourages youth-led civic engagement through her role as Co-President of Empower the People. She believes that it is important for students get involved with politics.
"Students have so much power to create change. Young people can influence politics by voting, calling their legislators, demanding specific action, and getting involved in politics at a young age," said Kaufman. "It is so important for students to be involved and civically educated because we are the ones who will bear the most brunt and have to deal with the consequences from current representatives' decisions."
A Voice of Change
"The shooting at MSD on Valentine's Day, 2018—specifically the ambush in my classroom, Room 1214—profoundly affected my life and the students in the classroom with me that day," said Schamis. "In the very room where we were learning how to combat hate by studying the Holocaust, we were confronted by hateful actions of someone who was in possession of an assault rifle. Nicholas Dworet and Helena Ramsay, the gentlest of souls, were murdered in their 4th period class that day and we will honor them the rest of the days of our lives."
"
A Holocaust Survivor once told me 'Pain must not be wasted' and that is how we will proceed with our lives. "
— Ivy Schamis
"A Holocaust Survivor once told me 'Pain must not be wasted' and that is how we will proceed with our lives," said Schamis. "We will not be bystanders, but upstanders: those who do not stand idly by, but those who make a difference."
Novick sees hope in the activeness of the student population.
"Students today are more engaged than ever. They are wise and compassionate, with a desire to create an equitable world in which we all belong and can all live peacefully," said Novick. 
There are many organizations that allow students to join the fight against gun violence. 
But what can I do?
"As for March for Our Lives, you can visit our website and sign up for emails or contact us to get more involved. There are also programs such as the Team ENOUGH Lobbying Collective, which allows teens in Florida and a few other states to virtually lobby at their state capitol's for gun violence prevention policies," said Weissman.
Some other organizations that combat this issue include Orange Ribbons for Gun Safety, Change the Ref, Scott J. Beigel Memorial Fund, Purpose Over Pain, Survivors Empowered, The Circle of Brotherhood, and Students Demand Action.
"Students cannot lose hope, but they must be vigilant and work toward a common goal of safety for everyone," said Schamis. "America is a land of rights, but we must understand that those rights come with great responsibility. We are responsible to make changes to gun laws so we will no longer have approximately a hundred gun related deaths per day in the United States of America."