That's A Wrap!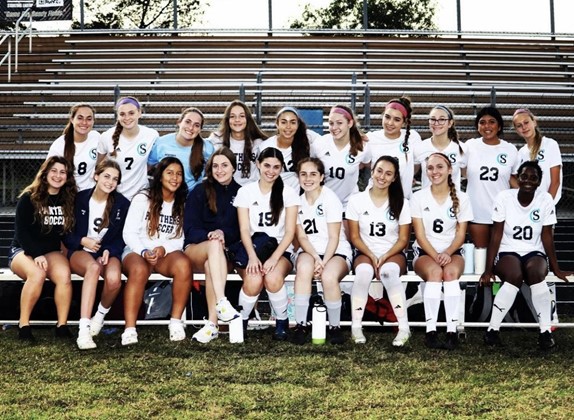 The girls varsity soccer team finished off their season strong despite an unfortunate loss against North Broward Prepatory School with a score of 2-1 in the regional-quarter finals. This was a bittersweet ending to the season for senior players Sabrina Basso, Erin Dunne, Kelsey Dunne, Emily Kahler, Marissa Marill and team managers Sophia Papaleo and Madison Micioni. The girls put a fight up this season walking off the field with a record of 16 wins, 6 losses, and 1 tie. Despite the departing seniors the team worked hard this year to bond and improve their chemistry as a team in order to achieve this record.
While the entire team celebrated the seasons end with their banquet, for three seniors the season wasn't over just yet. Sabrina Basso, goalkeeper Kelsey Dunne, and Midfielder Emily Kahler were invited to play at the BCAA's All Star soccer game where they were able to showcase their skills with players from all over the county.
"The All Star game was very fun, we didn't take it as serious because it wasn't a season game but it was still competitive and you could tell everyone was just enjoying themselves. The last game of the school season was sad though, I sat on the field and cried after," said senior Emily Kahler. Although she doesn't plan on playing soccer in college, the love she has for the game will never go away.
On the other end the rest of the freshman, sophomores, and juniors were looking forward to the beginning of the next season.
"It was overwhelming at first because I didn't want to be the one to mess up but all of the girls were super welcoming and it was a great season. I felt like I got really close with a lot of the girls and the experience was amazing overall."