Girls Volleyball: Success On The Court
The Girls Varsity Volleyball Team thrived this year–they had 17 total wins and 5 losses during their season. They also brought home the title of Class 4a District 13 Champions, allowing the team to advance to the regional quarterfinals. The game resulted in a 3-0 loss to Cardinal Gibbons High School, which ended the season for the team.
Senior Alexandra Bruno, who was recently named Sun Sentinel's Volleyball Player of The Year, said that all of the players understood their roles on the team and embraced them to the fullest. This allowed everyone to fit into their position and really focus on the games. "We did an amazing job at keeping the energy up and feeding off of each other to succeed this season," said Bruno.
Overall, she was proud of how the team played in her final year of high school volleyball. The relationship between the upperclassmen and underclassmen was pivotal for their success. "Encouraging the younger athletes made them more confident while playing and it was crucial towards the end of the season as they started to play more," said Bruno.
Alongside Bruno, Coach Samantha Harwell was pleased with her team. She was thrilled with the effort put in to beat last year's state runner-ups in the Districts final and with the fight they put up in the regional quarterfinals.
Harwell voiced that the team's chemistry is what really made them so powerful. "Some of my athletes have been playing together for four years, which allows them to build up trust and always know that they can count on each other during intense moments in games," said Harwell.
Leave a Comment
About the Contributor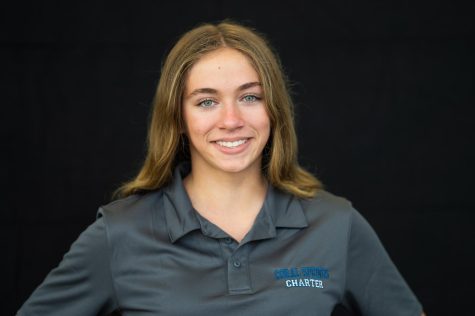 Claire O'Connor, Staff Writer



Claire is a freshman. She's in STEM club and on the swim team. In her free time, she enjoys going on social media, listening to music, and hanging...