Madalen Erez: Student Journalist of The Year
"It's always a good feeling when something you put a lot of work and time and effort into pans out," said senior Madalen Erez.
Erez is the first journalist in Charter history to win the "Student Journalist of the Year Award" (also known as SJOY) for photography.
"What I really enjoyed was the process of putting together a portfolio," said Erez, "because the thing is you don't realize how much work you're doing and how many different kinds of photos you're taking until you really start to put them all together."
Erez first discovered photography by taking pictures of grasshoppers and other animals in her backyard during her freshman year.
"My first camera was my iPhone," said Erez, "I would get as close as I could and try to use the sad iPhone focus by tapping the button and seeing how close I could get."
After joining Journalism, Erez quickly realized that she could use her developing photography skills for both recreation and Journalism.
"The first time I used my camera in a Journalistic way was 9th grade for the 'On The Spot' competitions," said Erez. "I ran to the auditorium and I shot Mrs. Butler at a desk and started to learn how to use the camera."
For recreation, Erez enjoys photographing birds in places like the Wakodahatchee Wetlands and Green Cay Nature Center & Wetlands.
"Wakodahatchee is great for the action shots, like the birds fighting each other or when it's baby season and everything has nests," said Erez, "but when you're just looking for a quiet walkaround, that's when I'll hop on over to Green Cay."
While being a seasoned journalist and photographer, Erez has also spent some time helping out tech in theater.
"Freshman Maddy was really stumbling into things. I switched out of something I didn't really want to take and I switched into theater 4," said Erez, "Mrs. Butler was willing to help me figure out a space for me within theater 4. So, I started working on set design."
She has also won multiple awards for her set design pieces in Florida Thespians competitions by using digital 3D models rather than the traditional 2D models.
"If anything is going to be my legacy, I would love to know that I inspired a few other people to pick up 3D modeling and try it as a hobby," said Erez, "I was glad to see it entering the competitions more."
Erez will be attending University of Florida in the fall and is majoring in General Engineering.
"I like to take the hardest path to anything, which can be a good thing but also a bad thing", said Erez, "I'm going into engineering because I think it'll be interesting to me but also because it's fundamentally difficult."
Leave a Comment
About the Contributor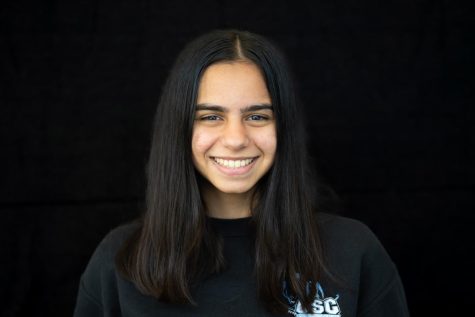 Kasi Kaleva, News Editor
Kasi Kaleva is a junior. This is her second year as an editor on staff. Her interests include singing, acting, and writing.