What is wrong with Kanye West?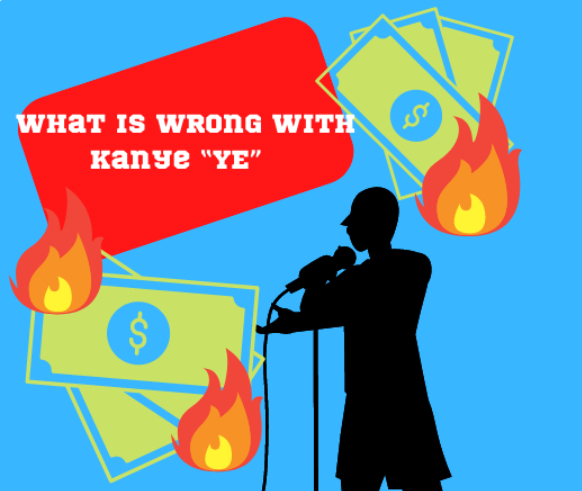 Ye (formerly known as Kanye West) has been getting dropped by companies faster than he's dropping albums. As we have seen on October 25, Ye was dropped by one of their biggest brands, Adidas. Even after Ye said in a podcast, "Adidas will never drop me." As he said "I can say the anti-Semitic s-, and not get dropped by Adidas." Ye has been working with Adidas since 2013, with their own brand, Yeezy; the two brands together are valued at $1.5 billion. After the anti-Semitic comments made on social media and questionable public appearances, Adidas announced their departure with the artist, making Ye's wealth fall to $400 million. Making him poor in rich talk.
In a formal statement from Adidas, the company states "Adidas does not tolerate antisemitism and any other sort of hate speech. Ye's recent comments and actions have been unacceptable, hateful and dangerous, and they violate the company's values of diversity and inclusion, mutual respect and fairness."
Not long after, GAP announced dropping their partnership with Ye, as they had already announced the end of the YeezyGap collection last month. The company has said that they are taking immediate steps to remove YeezyGap from the website and have already taken out products from the story and has already shut down the YeezyGap website.
Which is absolutely hilarious coming from someone who had just said that they wouldn't get dropped from their companies, no matter how hard they try, and then for them to get dropped the next day, has to go down in history as the funniest moment in pop culture history. Even though he has stated multiple times that he didn't want to work with Adidas, as the company has put out many color and shoe designs out without his permission.
But I applaud Gap and Adidas for the way they handled this controversy, as Ye is the type of person to not keep his mouth shut on things, he's like the annoying kid in class that always has something to say even if he's not part of the situation.
Balenciaga has also dropped the artist after the same anti-Semitic comments he had made to have been dropped by Adidas, Balenciaga had been helping Ye with the production of Yeezy Gap line earlier this year.
With Gap contracting the YeezyGap line for 10 years, with Balenciaga helping with the production of the clothes in June 2020.
But Ye said last month he has decided to end the contract early because of "substantial in-compliance."
But despite the controversy, Ye and Balenciaga are still reported to be on good terms, as the chief executive of Balenciaga, Demna Gvasalia, and creative director Cedric Charbit, were seen attending Ye's Paris Fashion Week show, Which is extremely funny as they had just said that they don't support his comments, but there still friends. In the same show West wore the controversial "White Lives Matter" shirt with Candace Owens, a conservative media figure, Who sometimes forgets her own rase, The whole show ended up being a mess, with Ye giving us the same ugly color-less aesthetic. He had also come for Voege editor Gabriella Karefa-Johnson after she had described the Ye Paris Fashion Week show as "an incredibly irresponsible and dangerous act". Ye ended up attacking the Editor with fat shaming comments and bullying her style.
Gigi Hadid, supermodel, had even come to Gabriella Karefa-Johnson defiance and clapped back on Ye's on Instagram, Later on Vogue shared a statement that they. " Vogue stands with Gabriella Karefa-Johnson, our global fashion editor at large and longtime contributor."
Not just that but it gave us the surprise of the week, as Ye had shown up unannounced to the Sketcher offices in Los Angeles, where Skechers had escorted him out.
This is probably the funniest thing I have heard all week, because how do you think, that after all these brands have dropped you and all your controversial takes, that a company like Skechers that markets twinkle toes to 5-9 year old girls is going to work with someone who has public beef with Vogue Editors, just cause they stated their opinion on you.
The company made a public statement clarifying "Skechers is not considering and has no intention of working with West.". And the funniest part of this is that just because he thinks he's Ye, everyone would want to work with him even after the thing he has done and said.
Ye fans have also had rough time and many fans including me have supporting the artist, as we have seen main fans have already used every excuse in the book to defend Ye, but at this point we have to draw the line between mental heath and just someone being are, and I'll admit Ye is an extremely talented musician, but so stupid at the same time, he's made some of my favorite albums like Graduation (2007) and My Beautiful Dark Twisted Fantasy (2010), which are culture resets in my opinion.
But I can't stand this behavior anymore. At this point it makes me want to pop out gold teeth and fangs, cause his behavior is disgusting.
Ye is also still making threats and remarks to his ex-wife, Kim Kardshian, her family and their own children through social media, in now deleted posts targeted toward Kardashian and the Kuwtk family.
Ye has also accused that Kardashian has been keeping him away from their 4 kids, but has been seen at North West's soccer games with her multiple times.
Not just that but early this year Ye had also made a series of threatening Instagram posts of ex-partner of Kardashian, Pete Davidson. Ye has also even put Davidson's name in a song called "Eazy" stating that if he see him, he's going to beat his "@$$."
It is rumored that Kardashian has taken precautions with increased security and has demanded fewer visits with the kids in their divorce settlement. But at least Taylor Swift finished what she had to say, as she's had the best album of the year with Midnight being the most streamed album in Spotify history. However,  Ye's career and sanity keeps falling into shambles.
Leave a Comment
About the Contributor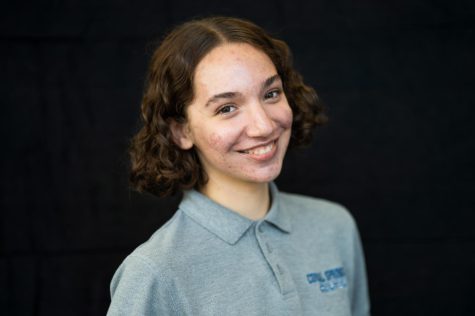 Giovanna Berrios, Business Manager
Giovanna Berrios is a junior. This is her second year on staff. She enjoys reading, hanging out with friends, astrology, and music.